Tackling Plantar Fasciitis with 3 Simple Solutions
Plantar fasciitis, literally "angry foot fascia", is a tissue disorder in the foot that plagues active people in their 20s to 60s who place heightened stress on their heel (like runners, dancers, and pregnant women), people with very flat feet or very high arches, and people who stand on hard surfaces for long periods of time (sales floors clerks, chefs, bartenders, and more). With this condition, the connective tissues—the muscle and fascia—at bottom of the foot becomes so tight that placing your toes or heel down to the floor hurts. Plantar fasciitis does not have to be a life sentence. Getting out of bed in the morning and placing your feet on the floor can be painless once again. Here are three solutions to combat plantar fasciitis in just a few minutes a day.
If you experience plantar fasciitis, there are several treatment options. Some offer temporary relief like ice baths, warm compresses, and massage. Alternatively, some solutions are enduring—they will get to the root of the problem and eliminate the pain indefinitely. Here are three of the top long-lasting remedies.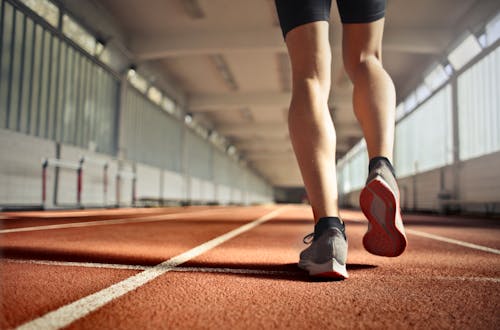 Free Your Toes. Take off your shoes and let your toes grip the floor. Image putting a cat in shoes. It couldn't maneuver the jungle well because it could not spread its paws nor can human feet in everyday life wearing shoes. Like a cat's paws, when your toes can spread out and grip the ground, you have more stability, traction, and power to hold up your body. Alternatively, when you have plantar fasciitis and your toes and feet don't function properly, affecting weight distribution during movement (standing, walking, running, and more).
Foot ware is a leading cause of plantar fasciitis. Historically, shoes were designed to protect the feet from weather and over time, industrial hazards, and eventually for physical activity i.e., sports and fitness. Shoes were not contoured to "enhance" the way our feet were designed to perform. While there is a greater focus in 2020 on foot ware functionally, we remain far from where our feet need shoes to be.
Let's look at the shape of a modern shoe. Most shoes taper at the front of the shoe which causes our toes to smush or smash together. Our toes are meant to spread out as they extend, bend, grip, and press into the earth. This increases their ability to stabilize the foot, ankle, knee, and hip while adding power to each step.
Your toes are powerful. Plantar fasciitis inhibits your toes from unleashing this power because the tissue is dry, ridged, and often painful to use. If your toes are "stuck" due to years of uncomfortable shoes, long hours on your feet, or your athletic prowess, put 60 seconds aside each day to walk barefoot on a soft surface. Let them sink into the ground. Make a fist with your toes through the carpet, grass, or sand. Your toes will thank you.
Target the arches of your feet using myofascial release. When the arches of your feet experience plantar fasciitis, they lose a large percentage of their ability to absorb shock, balance your body, and generate force. If the muscle and fascia cannot properly stretch then your foot, ankle, knee, hip, lower back, and neck are all inhibited. None of these muscle groups can function as anatomically proscribed.
The solution for your arches is quick and easy: target the arch of each foot using myofascial release. Use your thumbs to apply small amounts of pressure to each arch.  With your thumb, feel for thick, rubber band-like tissue and use your pressure to travel in a line from the front of your heel to the base of your toes. If you are a WAVE5 user, we recommend using Drip or Drop and follow the same muscle line in the foot. If you don't have a WAVE5, try using a golf ball and a long sock. Place the golf ball in the sock and wrap the ends of the sock around your fingers to keep the golf ball in place. Position the golf ball on the thick band of tissue in front of the heel, and gradually apply pressure. Your pressure should feel good—somewhere between ouch that hurts and wow that feels really good. Tissue responds better to gradual, consistent pressure that you can breathe through than versus aggressively digging in and holding your breath.
Target your calves using gradual pressure. Although most of the pain brought on by plantar fasciitis is felt in the foot, the two muscles of your calf–the soleus and gastrocnemius–play a significant role in plantar discomfort. These two big calf muscles attach to the tissue around, over, and under your foot. When they are overworked, your feet feel the effects. In addition, if your calf muscles are tight then your foot's range of motion is limited. For example, if you're sitting in a chair and pull your toes to the sky and have trouble lifting them from the floor, chances are your calves are resisting the movement. Static stretching does not work to remedy this problem nor do long stretches which can irritate or inflame the fascia and lead to tearing.
Use gradual pressure on your calves to increase elasticity makes it easier to stretch while relieving the strain on your feet. One easy way to apply pressure to your calves is sitting in a chair and using your thumb. To target your right calf, use your right hand. Take your index, middle, ring, and pinky fingers and gently hold onto the front of your shinbone. Position your thumbpad into the calf muscle and use the hold on your shinbone and leverage the thumb– similar to a wrench creating torque–gradually into the muscle. Release the pressure from your muscle and slide your thumb down your leg following the line of the muscle toward the heel. This can be repeated on the inside of the calf, but to target this side, use your opposite hand. Doing this once or twice a day (maximum of five minutes total) should lead to happy calves and less tension and pain in your feet.
Your feet are important. They are the foundation which holds up your body and serve as the connection between you and the earth. They root every movement you make. Don't underestimate the important of caring for your feet. Making your feet angry usually happens over time and commonly results in plantar fasciitis. Luckily, with the proper treatment, this condition can be alleviated and remedied in a few minutes a day. Letting your feet be naked and applying minimal, gradual pressure to your toes, arches, heels, and calves will make every step you take feel lighter and less stressed.